CRUISE LINERS & FERRIES
Ferry & Cruise Ship Bed Bug Treatment Options
With the huge turnover of customers from all over the world using ferries and cruise liners, it's well known that infestations can be a real problem in this industry.
Both have short turnaround times and cannot afford long periods in port, meaning limited time to deal with issues, and thus problems can escalate rapidly, plus there's the danger of customers taking legal action should they be bitten.
If you do get an outbreak, our heat treatment is GUARANTEED to get rid of the problem in your bedrooms, and we can deal with just a few rooms at a time, or whole blocks.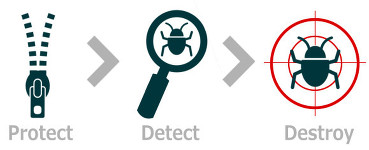 We are able to offer multiple sizes of our CIMEXINE bug proof mattress encasements, which take away the key harbourage points for the bed bugs as well as keeping unwanted spillages, stains and accidents off the mattress and keeping it pristine underneath. Plus we can facilitate an early warning system for bed bug outbreaks, by using our Bed Bug Trap and Monitoring System which can be placed out of sight of your customers and can be easily checked once a week by housekeeping of maintenance.