RESIDENTIAL
Residential Bed Bug Removal & Management
A great deal of our work is carried out in residential premises, houses, flats and care homes where the home owner or occupant has simply been unlucky enough to encounter an outbreak of bed bugs. Often it can simply be as a result of a holiday or travelling somewhere unfamiliar, but the common factor is that it can be very stressful for any home owner, who of course wants to get rid of the issue are quickly as possible. We remove the bugs and take the stress away.
We start with a FREE TELEPHONE CONSULTATION during which we will ask you about the history of the outbreak as well as the nature of the property to try and work out how established the infestation is.
From there we advise you on the best course of action given your circumstances and the likely cost implications. We have three TREATMENT OPTIONS and will always give friendly, honest and professional advice on how we think you will best get rid of the problem quickly and with minimal disruption to you, your family and (if you have them) your pets.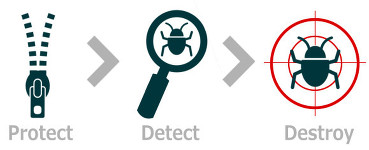 Remember that we are uniquely able to GUARANTEE COMPLETE ERADICATION of the bed bug outbreak if you decide on the full heat treatment option. In residential premises the guarantee lasts 24 WEEKS from the time of treatment. No other company can offer this kind of assurance.
We also offer a number of complimentary bed products to help you gain some immediate control over an outbreak and cut down on the bites immediately, including bed bug proof mattress encasements, sprays licensed for amateur use and quick-check bed bug monitors in our ONLINE SHOP