LOCAL AUTHORITIES
Bed Bug Treatment & Removal for Councils
Local Authorities have no choice but to provide accommodation where needed, and need to have systems in place to tackle bug outbreaks.
And with the public becoming ever more litigious, and solicitors now specialising in representing clients for issues like bed bug bites, it's vital that they protect not only the public, but also themselves.
The CIMEXINE 'Protect, Detect, Destroy' system can sit alongside any pest management plans already in place. By encasing the mattresses and bed bases in accommodation where furnishings are provided, you remove the key harbourage points for bed bugs and do not need to worry about throwing out beds should an outbreak occur. Plus you are making direct cost savings by keeping the mattress pristine, because the encasements stop any unwanted stains, spillages or accidents ever getting through to the mattress.
Our Cimexine Bed Bug Monitoring System allows you to place easy to check and set pheromone traps in problem accomodations to try and establish if a property has a bed bug problem and for on-going monitoring.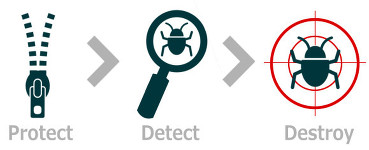 We are able to offer small and large scale heat treatments to deal with the issue without major disruption. Heat treatment is the only solution we recommend for bed bug outbreaks. Bed bugs are highly resistant to chemicals, but they cannot build up resistance to heat treatment which, crucially, kills the bugs in all their stages. Our heat treatment is GUARANTEED to get rid of the problem and also allows accommodations to be re-opened quickly afterwards.