THE SOLUTION
Bed Bugs Solution – The CIMEXINE System
Bed bugs like to live as close as they can to their meal source and the seams and buttons of mattresses and joints of box springs are key harbourage points for both living and egg laying.
If you are unlucky enough to suffer from a bed bug outbreak, it's likely that you may have to throw out your mattresses and beds. By using the Cimexine Sure-Guard fully encasing mattress protectors and box spring covers, you are removing those harbourage points. So you no longer need to worry about the costs of throwing out the beds.
Our luxury Sure-Guard protectors feature bed bug proof zips and are made from a silky-soft, cool, breathable fabric that is also fully waterproof thanks to a clever laminated inner membrane. So not only do they keep bugs out. They also keep the mattress pristine by not allowing any unwanted spillages or accidents getting through to the mattress, significantly extending mattress life.
We use highly trained and proven bed bug sniffer dogs to screen for existing outbreaks and get to the root of any problems rapidly. The dogs are usually only used in a business environment. Many clients choose quarterly screenings to give peace of mind and to ensure any outbreaks are spotted early.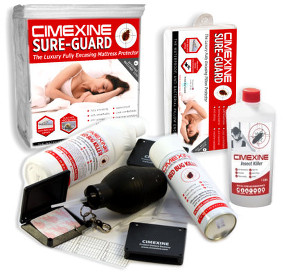 The acclaimed Cimexine 'Protect, Detect, Destroy' system for bed bug management is a revolutionary three-step system that allows you to PROTECT both your beds and your customers; DETECT bed bug outbreaks before they become infestations; and DESTROY bug and all their eggs effectively in one treatment, GUARANTEED.
The Cimexine Bug Drawer Monitor is the result of extensive research and development with leading scientists from the bed bug field, in tandem with discussions with the hospitality trade. When bed bugs have fed they can be three times their normal size and need to get to a safe place very quickly. Normally this would be the mattress, but if you have encased it they will seek the next nearest available safe, dark place. By placing a Cimexine Bug Drawer Monitor subtly at the back of the bed base at the head board end, you are giving the bugs a convenient harbourage point and creating a bed bug early warning system.
The monitors sit in a holder and can be easily slid out and quickly checked as part of the normal housekeeping routine, because they are the only monitor in the world to feature a viewing window. They should be checked once a week. If there are no signs of bed bugs just slide the monitor back into its holder. If there are, you have spotted them early and it's time to DESTROY!
Bed bugs are now almost completely resistant to the chemicals used against them. Our own independent research has showed that even the professional strength products are now virtually totally ineffective.
The only way of effectively dealing with an outbreak quickly and with minimal disruption is with heat treatment. With this approach the room is super-heated to an optimum temperature for a prolonged period. It is the only approach that kills the bugs in all their stages, including (vitally) the egg stage, so you will not get a new infestation a few weeks later when the eggs hatch. Bed bugs cannot build up resistance to heat treatment. Another major plus with heat treatment is that, unlike with ineffective chemicals which require the room to be closed for at least 24 hours after treatment, the room can be opened up to guests straight afterwards, meaning that you don't lose vital revenue. Plus with heat treatment you never have to throw out your beds and furnishing because it penetrates every crack and crevice.
The ultimate bed bug solution, our heat treatments are GUARANTEED to get rid of the problem and unlike many larger pest control companies, we are able to treat small infestations. Note that we will always insist on treating rooms either side of where the outbreak has been spotted.