Why Choose Heat Treatment For Bed Bugs?
Bed bugs are the hardest pest to get rid of today. They can hide in the thinnest of gaps, only coming out at night to feed when you are asleep, and they have developed very strong resistance to chemical insecticides. Bed bug heat treatment kills by denaturing the proteins and enzymes essential for the insect to survive. Heat treatment is the best way to tackle a bed bug infestation because they have no way of building up resistance to heat, which kills the bugs in all their stages, including, vitally, the eggs. Eradicating bed bugs with heat treatment is also an eco-friendly approach. Rooms can be back in action on the same day as the treatment, and no furnishings have to be thrown away.
How Does Heat Treatment Work?
Our specialist heat treatment for bed bugs has been developed and perfected over 15 years. Key areas are gradually super-heated using special mobile convection heaters. Hot air is circulated and penetrates all the hardest-to-reach cracks and crevices where the bugs like to harbour. Wireless sensors linked to a data logger are placed in the most difficult to reach areas to ensure the heat penetrates fully. These are plotted on a laptop so that we can be certain all key areas have reached the required temperature for the required amount of time.
How Long Does The Heat Treatment Take?
Heat treatment for bed bugs is completed in a single day and the room can be back in action that day. The length (and price) of the bed bug heat treatment will depend on how many rooms we are treating. Call us now for a free consultation on 0207 416 6671 or email info@britishbugcontrol.com. Things do get very hot (we need to reach 55-60 degrees for an extended period) and in a smaller property it's advised that you vacate the property while the treatment is taking place, although we understand that it's not always possible.
Is The Heat Treatment Discreet?
All our heat treatment operatives understand fully the need for discretion when tackling a bed bug infestation. We operate in un-branded vans and the heaters themselves are quiet and unobtrusive. The use of mobile convection heater units is important in this respect also, as it means the equipment is all inside with no requirement for a trailer outside of the property. It also means we can readily access properties where parking may be difficult, as can be the case in cities.
Is Your Heat Treatment Guaranteed To Work?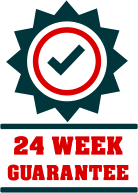 At British Bug Control we are so confident in our heat treatment for bed bugs that we are able to offer a guarantee that we will get rid of your outbreak. The guarantee lasts 24 weeks in a residential property and 12 weeks in a paid-for room environment such as hotels and guest houses. Subject to the preparation being carried out to a satisfactory standard (see below), and the advised number of rooms are treated, if live bed bugs are found in that period, (and you are able to provide us with evidence of this through pictures ,video or live insects) we will return and treat again at no extra charge to you as many times as it takes. Please note that heat treatment combines a number of proven techniques and because of this there is a 14 day settling in period during which we would not attend under warranty. If you find any live bed bugs after this period, just send us a picture or video of this and this will activate retreatment under warranty. 
Some preparation is needed from you to ensure we can get the best result for you and can offer the guarantee. In general terms the key is that the rooms to be treated are uncluttered and certain items that will respond adversely to the heat (eg make-up, plants) are removed. There will be some bagging up and washing to do prior to the treatment taking place. On booking we will send you a document outlining the advised preparation and warranty the terms.
What Does It Cost and When Can You Do It?
We have bed bug heat treatment units covering all of England and Wales and in normal circumstances they can be with you quickly. The cost depends on the number of rooms to be heated and the layout of the property. Call now for a free and friendly consultation with one of our expert team on 0207 416 6671 or 01832 770483, or email info@britishbugcontrol.com.
Is There Anything I Can Do Now?
In many cases customers wish to take immediate action when they discover they have bed bugs. We have a number of products in our online shop that will help cut down on bites and help you monitor the situation. These include luxury mattress encasements in all the main UK bed sizes, quick-check bed bug monitors and insecticides that are licensed for amateur use. We also offer insecticidal treatment options which while not guaranteed are less expensive than heat treatment and can often be successful in a recent or low level infestation.
VISIT OUR ONLINE SHOP NOW: www.shop.cimexine.com